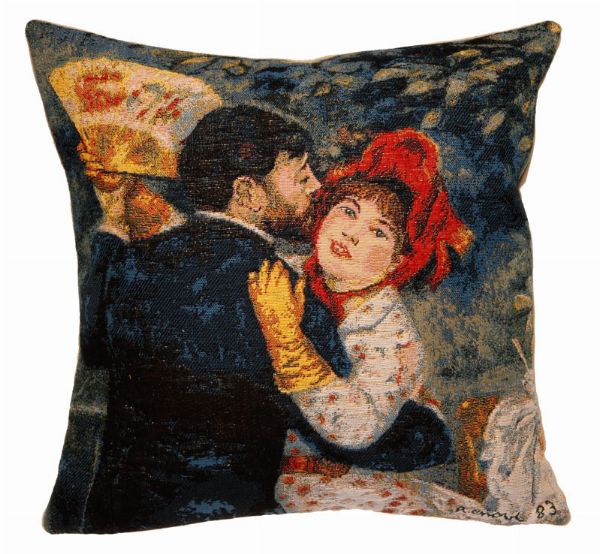 Dance in the Country by Pierre-Auguste Renoir Tapestry Cushion
48 x 48cm (18.9" x 18.9")
£40.00
In Stock
Free UK Delivery
Delivered to You in 1-2 days (tracked)
Return within 30 days for full refund or exchange
Painted by Renoir in 1883 and now in the Musée d'Orsay in Paris, this Woven Cushion is a beutiful piece made to the highest standards.
The woman dancing under the chesnut tree shown in the Tapestry, Aline Charigot, often was a model for Renoir's paintings and would later become his wife. Of note in this painting is how she is smiling at the viewer.
The complimentary piece "Dance in the City" is also available.
All our cushions come with fillings.
About Our Tapestries
Our tapestries are woven in Flanders, Belgium, using Jacquard Looms. These looms are modern versions of those invented in the early 1800s by Joseph Marie Jacquard. These modern versions still use the same techniques invented 200 years ago.
Due to the nature of this manufacturing process, and the natural qualities of the materials used, each Tapestry is unique. Most of the tapestries are made from wool and cotton, so retain the same look and feel as the originals, yet benefit from modern synthetic fibres to add strength, stability and in some cases, metallic golden hints.
You can rest-assured that our tapestries are woven carefully and intricately, and are not just screen prints! They are bona fide woven replicas of original tapestry designs (many of which can be seen in museums all over the world), as well as some interesting new designs.
The back of each tapestry is lined with a cotton canvas, and features an information certificate.
Small and medium sized tapestries make great, eye-catching alternatives to hung pictures, and will certainly providing a talking point!
Please note that all sizes listed on this web site are approximate. Due to the natural materials used in tapestries, and the weaving process itself, sizes can vary by up to a few centimeters on the larger tapestries.
What Our Customers Have to Say About Our Service...
"Just a quick note to say how great the tapestry I ordered looks on my hall wall. It's huge but looks so regal. I'm well chuffed!"
"Thank you for the quick delivery, I am very pleased with the quality of the Mucha tapestries and am sure I will order from you again in future. "
"Thanks for your e-mail of yesterday and your speedy response with the replacement. The new cushion cover arrived this morning! I've checked it anyway, for my own peace of mind and it's perfect! Thank you so much! Kind Regards A most appreciative customer! "