About the Tapestries
Our tapestries are woven in Flanders, Europe, using Jacquard Looms. These looms are modern versions of those invented in the early 1800s by Joseph Marie Jacquard. These modern versions still use the same techniques invented 200 years ago!
Even though the tapestries are machine-made, they are each individual due to the unique nature of their manufacturing process, and the natural qualities of the materials used. Most of the tapestries are made from wool and cotton, so retain the same look and feel as the originals, yet benefit from modern synthetic fibres to add strength and stability.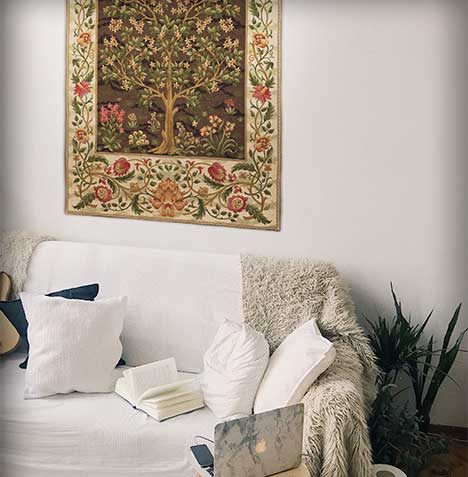 You can rest-assured that our tapestries are woven carefully and intricately, and are not just screen prints! They are bona fide woven replicas of original tapestry designs (many of which can be seen in museums all over the world), as well as some interesting new designs.
The back of each tapestry is lined with a cotton canvas, and features an information certificate.
Small and medium sized tapestries make great, eye-catching alternatives to hung pictures, and will certainly providing a talking point! Larger tapestries will turn your house into a veritable castle!
Please note that all sizes listed on this web site are approximate. Due to the natural materials used in tapestries, and the weaving process itself, sizes can vary by up to a few centimetres on the larger tapestries.
Hanging Your Tapestry
The back of each tapestry has a tunnel sewn into it for easy hanging. Simply insert a rod (dowel from your local hardware store, cut to size will suffice) through this tunnel, then hang the rod on the wall, using screw-in-the-wall hooks. You can read more about hanging tapestries here.
Taking Care of Your Tapestry
Simply vacuum once or twice a year. They may be carefully dry cleaned, but make sure your dry cleaner has experience in this type of product.
Any creases that occur may be removed using a steam iron, ensuring you iron the back of the tapestry, with a piece of cloth inbetween the iron and the tapestry. We recommend you test a small area to ensure your iron does not damage the tapestry.
Also, over the months, your tapestry will become more supple, and the simple act of hanging will remove any creases in time.
History of Tapestries
The first records of tapestries date back to 3rd century BC, with the discovery of preserved Greek tapestries. By the 15th century, tapestries had gained popularity all over Europe, with Flanders becoming the most important hub for production by the 17th century.In the 19th century, William Morris, an English born Artist, Architect, Writer and Socialist, resurrected the medieval design of tapestries, and set up a company producing many beautiful new designs, many of which can be found here at The Tapestry Shop.